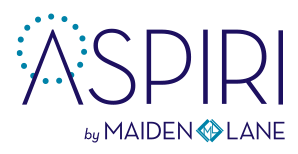 the challenge
Diamond engagement ring. Just hearing that phrase conjures up so many feelings and ideas and memories of time-honored traditions, including the anxiety associated with picking out the right ring. Now Imagine trying to do something new and completely different in the category. Well, that's exactly what we had to do – rename and rebrand a maker of diamonds, invent a name and positioning for a dramatic (and blingy) new diamond product, design new logos and introduce it all to jewelry stores and consumers across the country. And by the way, we had five months to do it.
the solution
Make a BIG statement. The Aspiri diamond features a unique cut that makes the stone appear much larger than it is. In other words, a big rock for a price within reach. Our research and insights identified the perfect audience for Aspiri: the bride-to-be who loves celebrity culture, knows what she wants and always makes a fashion statement, as embodied by the iconic image of a purse dog sporting a very big ring.
The dog, "Mr. Sparkle," starred in video and TV spots and made the whole shopping process more fun and less intimidating. He was featured in dazzlingly designed consumer materials (website, print ads, digital, social and point of sale). We also used him to reach and persuade hard-to-impress independent jewelers via an amped-up trade show presence and sales materials. An immediate success, Maiden Lane Jewelry rolled out a whole line of Aspiri products, including pendants and earrings.