the challenge
Who doesn't know about Pop Warner? The venerable non-profit program, founded in 1929 by coach Glenn "Pop" Scobey Warner, is so much a part of American culture that it is used as a synonym for youth football. With millions of alumni (including 70% of NFL players), it's likely that someone you know and admire participated in one of its programs while growing up. The full name is "Pop Warner Little Scholars," reflecting its emphasis on education (It awards scholarships to 8,000 scholar athletes each year), and it's not just for boys. Girls can play football or participate in the well-respected cheerleading and spirit program.
But a combination of factors, such as a rise in other sports and concerns about player safety, led to a decline in membership. Pop Warner needed to grow, and to do that it needed more financial support from corporate sponsors.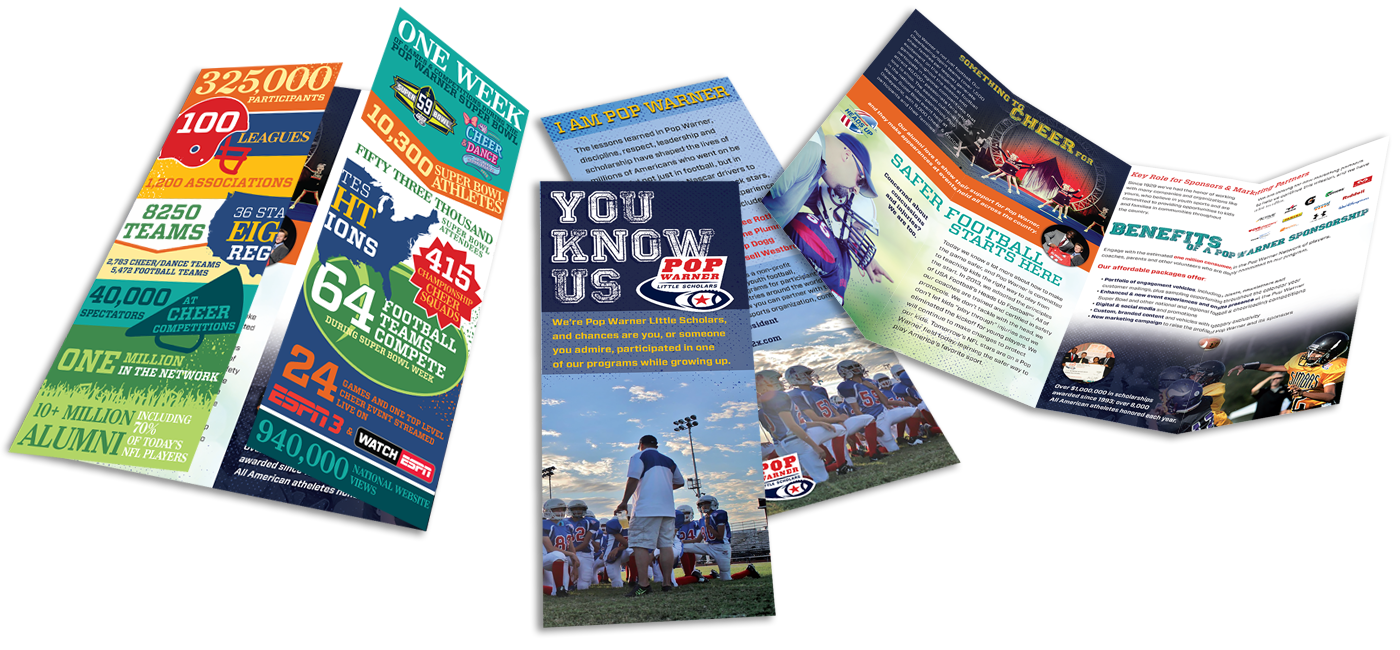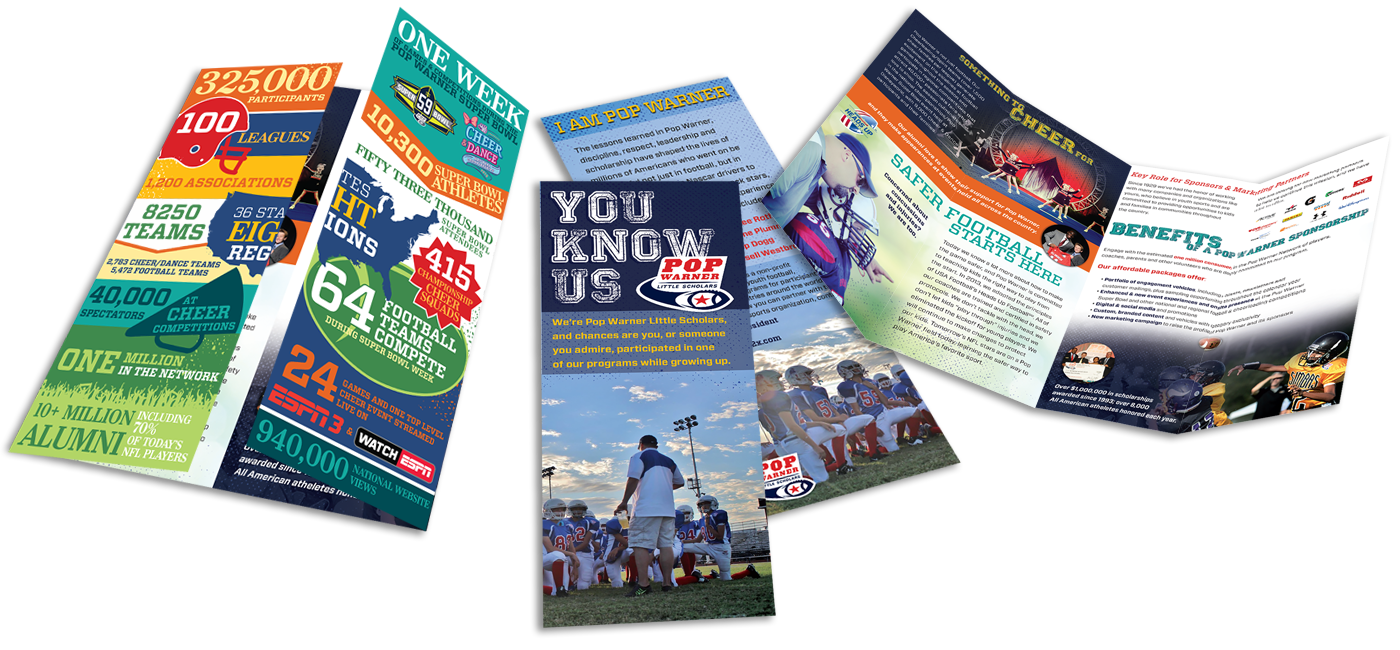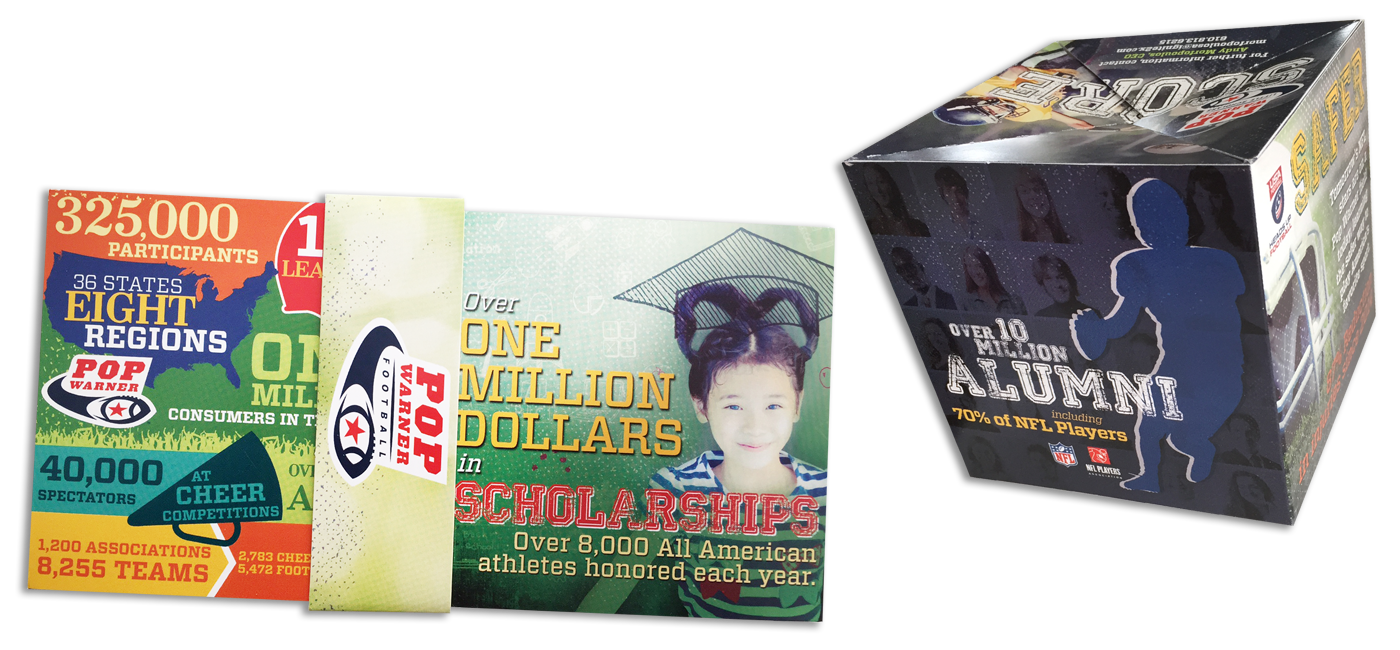 the solution
Reintroduce the Pop Warner brand to a new generation of corporate executives and create a portfolio of new, sponsor-friendly assets to provide companies and brands with more ways to engage with consumers and give back to the community, while maintaining the integrity of the program.
We developed a new line of business-targeted materials that told the Pop Warner story and addressed the key issue on everyone's minds: concussions. Today we know a lot more about how to make the game safer, and all coaches are trained and certified in the latest safety protocols. Future NFL stars (and kids who will go on to other careers) are on a Pop Warner field today, learning a better way to play America's favorite game.
Our ongoing outreach includes a broader range of business categories and a creative approach to partner relationships, and we continue to develop properties and elements that will make everyone a winner.
While we have your attention, please consider becoming a sponsor. With 100 leagues, 8,255 teams and a network of over a million active volunteers, family members and participants (boys and girls ages 5-16), Pop Warner is a powerful force on both a national and grassroots level. Just contact us, or to make a private donation, visit www.popwarnerdelivers.com.